Discover more from This Week in the Triangle
I aim to provide original reporting you won't find in the mainstream media as well as weekly roundup of local stories in the Triangle, NC (from a conservative/libertarian editorial perspective)
Chapel Hill paid $4,500 for a riot-celebrating Pride Month "Queeramid"
No. 23 — Jun. 4-10, 2023
Chapel Hill funded riot-celebrating "queeramid" for Pride Month (
WRAL
)
The Town of Chapel Hill, through their Community Arts & Culture division, provided $4,500 for an art project promoting violent rioting as a legitimate form of protest. The government funded project's three sides: "The First Pride Was A Riot.", "Say Gay!", and "Black Trans Lives Matter" all reflect aspects of the town's unofficial religion. You can be sure that any riot which damaged this piece of religious iconography would surely be prosecuted to the fullest extent of the law…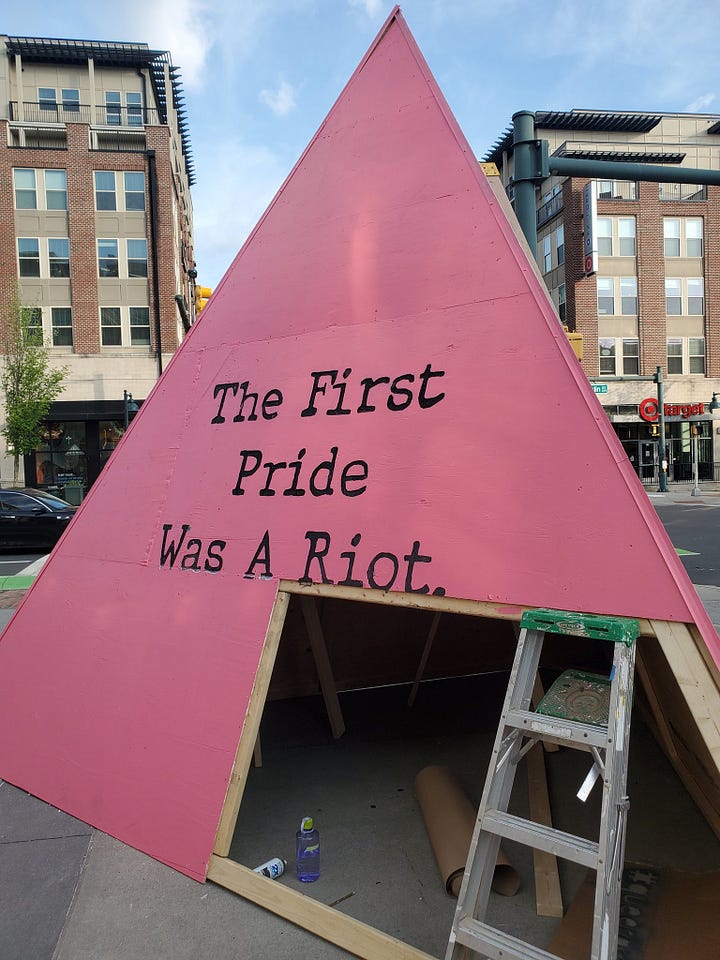 In case you have any doubt as to the meaning of this piece, here's an elaboration on each side of the pyramid from the artist herself, Julia Gartrell:
SAY GAY!

Say Gay! is a direct response to the "Don't Say Gay" bill signed into law recently in Florida. Restricting conversations for young kids around concepts of gender and sexuality, this law is dangerous and regressive. Telling children, either explicitly or tacitly, that who they are at their core is shameful to the point of being illegal will have direct negative consequences. By SAYING GAY, we are saying, "You are safe! You are loved! You are OK!" While installing the Queeramid, it was delightful to hear pedestrians, bikers, and folks in cars shout "GAY!"

A brief history on the pride flag: The rainbow flag was conceived of in 1978 by a group of artists and activists including Gilbert Baker and Harvey Milk. It was considered a cheerful response to using the pink triangle (see history below) as a symbol of gay pride. There have been many variations on the flag's design since its inception, with a popular new version including trans, BIPOC, and intersex symbolism.

THE FIRST PRIDE WAS A RIOT.

The First Pride Was A Riot reminds us that Pride celebrations have activist origins. In 1969 a police raid on gay bar The Stonewall Inn in Greenwich Village, NY turned violent. Patrons fought back and sparked several weeks of protests and demonstrations, demanding the right to live their queer lives in the open. This series of protests is seen as an early turning point in the fight for gay rights becoming a national priority. A year after the Stonewall riots, the first pride parade was held in several major cities across the US to commemorate the important event.

A brief history of the pink triangle: The pink triangle was a symbol used in Nazi Germany to mark gay men in concentration camps (lesbians were marked with a black triangle, which was a catch-all category meaning "asocial"). It was reclaimed (much like the word "queer") by the LGBT community in the 1970s, and has come to represent a wide variety of identities. The original usage of the triangle was point down; activists turned the triangle so the point faces up. The pink triangle is most closely associated with the 1980s poster "SILENCE=DEATH" by AIDS activism group ACT UP.

…

BLACK TRANS LIVES MATTER

Back Trans Lives Matter. In social movements, marginalization still happens even when progress is being made. Because of systemic discrimination, racism, and the patriarchy, Black Trans people are among the most at–risk members of the LGBTQIA+ community. While much progress has been for many facets of the queer community, folks with intersectional identities that put them in the minority or groups that face discrimination (ie: Black or Latinx, female or trans, low income, drug users, sex workers, etc) are still overlooked and excluded in many activist spaces. Black Trans lives are precious, unique, and must be supported, heard, and protected.

…

A few notes on the trans flag: The trans flag is pink, blue, and white and was designed by trans woman Monica Helms in 1999. The colors represent "baby boys (blue), baby girls (pink), and those who are transitioning and or consider themselves neutral of gender (white)" The black and brown portions on the Queeramid's trans triangle are pulled from the Pride Progress Flag and intend to represent marginalized minorities.
"Moms for Liberty files 189 Wake book challenges in past week. Why all were rejected." (
News & Observer
)
Have a book with illustrations too obscene for the newspaper? Try putting it in a Wake County school library instead. Frankly, I don't think I'd be comfortable publishing the objectionable sections of the books being challenged in the WCPSS libraries. The Pavement Education Project, one of the local organizations fighting against the availability of this material in public schools does have a resource with the books these parents are objecting to, and the exact material which makes them objectionable.
Autopsy released in January tasing death by Raleigh Police (
WUNC
)
In the early morning hours of January 17th, Darryl Williams died of a heart attack after being tased three times by Raleigh Police officers. Williams was attempting to escape on foot after a "proactive patrol" stop apparently discovered alcohol and marijuana in Williams' car, as well as cocaine on his person. Video shows that despite being tased in the back and falling to the ground, Williams managed to throw off three police officers on top of him and make a break for it (Williams was reportedly over six feet tall and weighed 311 pounds). The officers managed to get him back down and tased him twice more in "drive stun" mode as Williams complained of a heart condition before falling unconscious. Medical treatment on the scene was unsuccessful, and Williams was pronounced dead after being taken to the hospital by EMS.
An autopsy report released by the Office of the Chief Medical Examiner this week ruled the death of Darryl Williams a homicide. Tasers are known to have a risk of cardiac arrest, and Williams had multiple exacerbating factors including cocaine intoxication, obesity, and cardiovascular disease.
Want to get in touch? I appreciate to getting your tips, thoughts, feedback, etc: thisweekinthetriangle@substack.com