Discover more from This Week in the Triangle
I aim to provide original reporting you won't find in the mainstream media as well as weekly roundup of local stories in the Triangle, NC (from a conservative/libertarian editorial perspective)
Internet sleuths identify cyclist who set fire to Trump signs at Raleigh home
What do a Russian submarine commander, personnel at secret US military bases, and a Raleigh anti-Trump arsonist have in common? They all shared a little too much data on the popular app Strava, which allows users to share GPS logs of their running or cycling routes.
In this case, an individual from California was able claim the reward for identifying the cyclist who set fire to a "Trump Won" sign at a Raleigh home, as the arsonist uploaded his rides from the three days he had been caught on video kicking and setting the sign on fire:
James "Jim" White Jr, a registered Democrat, uploaded three bicycle rides to his Strava account which he had taken on August 12th, August 15th, and August 18th, the three dates that the arsonist was caught on video vandalizing the Trump sign. The GPS data White uploaded for these rides showed that he had passed by the location of the arson:
Internet sleuths were able to follow this up by finding images of White matching the distinctive arm tattoos, helmet, and bicycle that was captured in the video of the arsonist.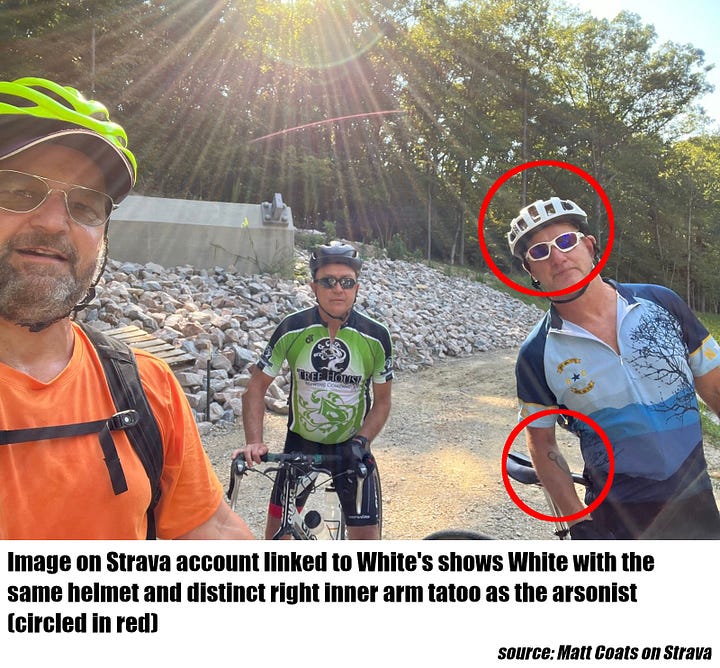 John Kane, the sign's owner, issued a statement on X (the app formerly known as Twitter) regarding the identification:
A gentleman from Lodi, California who does not want his name made public first identified the arsonist, Jim White, emailing @jlawrencenc at 1:52am with Jim's @Strava profile and gps, timestamped maps of Jim's rides that correspond with the time stamps on the videos.

I sent him $1,000 as promised a few minutes ago and will be sharing his information with @Timcast and @bennyjohnson so that they can do the same. I am truly grateful to each of you for lending your audience and money to catching this arsonist.

I have been asked, why put up a sign that is effectively putting a target on your back for the radical leftists. The answer is embodied in an Alexandr Solzhenitsyn quote: "The simple step of a courageous individual is not to take part in the lie."

@realDonaldTrump won in 2020. @JoeBiden did not get 81M votes. Staying silent to this fact is a choice. It's a choice with catastrophic repercussions, turning again to Solzhenitsyn: "In keeping silent about evil, in burying it so deep within us that no sign of it appears on the surface, we are implanting it, and it will rise up a thousand fold in the future. When we neither punish nor reproach evildoers, we are not simply protecting their trivial old age, we are thereby ripping the foundations of justice from beneath new generations."
Since Kane announced that White had been named as the arsonist, White's Strava account was set to private.
Kane also told This Week in the Triangle that the evidence had been passed along to the police who had been assigned to investigate the police reports he had already filed in regards to the arson incidents.