Discover more from This Week in the Triangle
I aim to provide original reporting you won't find in the mainstream media as well as weekly roundup of local stories in the Triangle, NC (from a conservative/libertarian editorial perspective)
Threat arrest @ Raleigh abortion clinic | Durham ignored report of lead in parks soil
No. 29 — Jul. 16-22, 2023
EXCLUSIVE: Man arrested at Raleigh abortion clinic for "Communicating Threats"
Allan Simon William Mmbaga, 44, was arrested last Saturday at A Woman's Choice abortion clinic by Raleigh Police and charged with "Communicating Threats". Mmbaga appears to be homeless, with no address listed on his latest or five previous arrests. Mmbaga has been arrested at least fifteen times since 2016: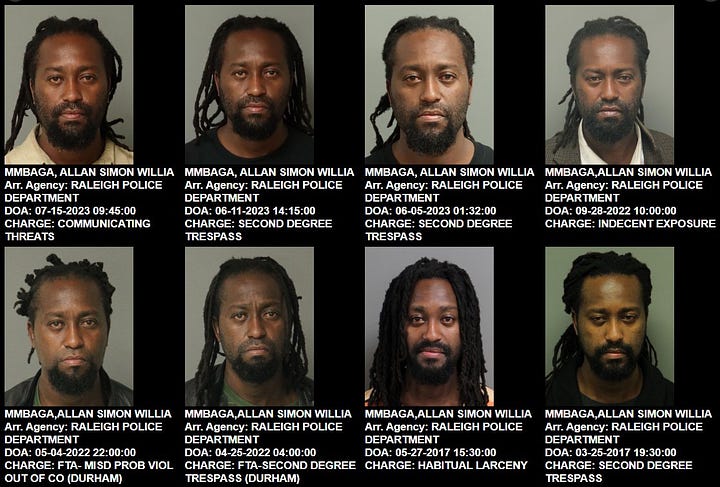 I have not been able to confirm further details, including whether Mmbaga was associated with the anti-abortion demonstrators who regularly picket the clinic.
---
"Duke U scientists alerted Durham Parks about high lead levels in November. No one told the public." -

NC Newsline
"WRAL Investigates: Durham Parks Department employees knew of lead in parks, did not elevate issue" -
WRAL
Emails obtained via NC's public records law shed more light on the City of Durham failing to notify their citizens after a study found lead contamination at three of the cities parks: Walltown, East End and East Durham.
Enikoe Bihari, then a master's student at Duke Univeristy, chose to study these parks for her master's thesis as the sites had historically been used been used for city-operated incinerators. On November 30, 2022, after the study was complete, Dan Richter, Bihari's advisor, sent an email to his contacts at the Durham Parks and Recreation Department alerting them that they had found lead concentrations at the parks in excess of 400 parts per million, the EPA's hazard threshold for residential play areas.
However, the department never acted or responded to this information until May of 2023, when a resident discovered the study online and it began to share.
---
Viral video shows woman using sexual harassment, racial slur in rant over "misgendering" at Raleigh car dealership
A video shared on Thursday by the Twitter account @LeftismForU shows a full-on gender-ideology meltdown by at the Leith Toyota dealership in Raleigh (it's not clear when the video was originally captured).
Here's a few choice incident from the androgynous-clothes-wearing white female as she was forced to exit the establishment (emphasis in the original):
"Do you understand gender, you f***?"

"Yeah, call the police on gender normativity! Thank you, p****"

"I'm a f***ing SIR!!!"

"What is your gender? Hey lady, hey you sexy lady, where that butt going, f***ing s****y lady? Come here, little girl, Imma s*** all over that little ??? you f***ing whore!"

"YOU WANT ME TO ASSAULT YOU, B****? YOU WANT ME TO ASSAULT YOU, F***ING B**** N***A?"
The video ends with the woman, ejected from the dealership, raising her middle fingers as she walks backwards through the parking lot.
---
Want to get in touch? I appreciate to getting your tips, thoughts, feedback, etc: thisweekinthetriangle@substack.com