Discover more from This Week in the Triangle
I aim to provide original reporting you won't find in the mainstream media as well as weekly roundup of local stories in the Triangle, NC (from a conservative/libertarian editorial perspective)
Veteran Home Educators Opening "Homeschool Resource Center" in Johnston County
The number of homeschoolers in North Carolina has been steadily increasing since legalization in the 80s, with over 35k estimated homeschool students in the Triangle area as of the 2021-2022 school year. I spoke with Tara Niebaum and Mindy Sportsman, veteran homeschool moms with decades of combined experience who are working to open Foundations Homeschool Resource Center (FHSRC), an organization in Johnston County aiming to provide resources that were not available when they began homeschooling their own children.
Mission
Although you may recognize Tara and Mindy from their anti-lockdown/medical freedom activism as "2 Citizen Moms", this endeavor isn't political; it's religious. FHSRC is an explicitly Christ-centered organization: board members, employees, contractors, and volunteers are required to sign a 22-point statement of faith including the inerrancy and sufficiency of Scripture, as well as traditional Christian positions on homosexuality, transgenderism, abortion, and young-earth creationism. Homeschool parents/administrators may be required to sign a shorter 10-point statement of faith for access to certain of FHSRC's resources.
"If the foundations be destroyed, what can the righteous do?"

Psalm 11:3
Resources
FHSRC's location in Selma will include a lending library with "classical and Christian literature and curricula", as well as a location for the "enrichment classes" the center will offer. The classes will be taught from the biblical worldview, with the 2023-2024 schedule including class topics such as Biblical Worldview & Cultural Apologetics, Constitutional Literacy, and a Newspaper/Journalism Club.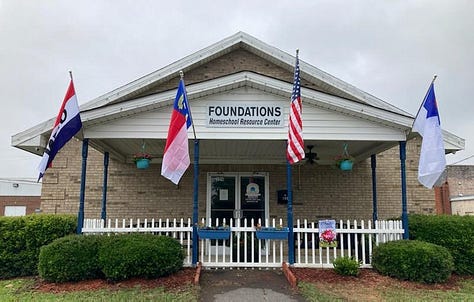 FHSRC will be holding a Grand Opening and open house on June 24 to give prospective students, volunteers, etc. an opportunity to learn more, register for classes, or leave a donation:
Y'all can find out more about Foundations Homeschool Resource Center on their website, or their pages on Facebook or Telegram.