Discover more from This Week in the Triangle
I aim to provide original reporting you won't find in the mainstream media as well as weekly roundup of local stories in the Triangle, NC (from a conservative/libertarian editorial perspective)
Wake School Board invites CRT scholar for implicit bias "struggle session" | Durham Sheriff gun buyback results
No. 46 — Nov. 12-Nov. 18, 2023
Wake County Board of Education invites "Critical Race Scholar" for implicit bias training
Wake school board talks about implicit bias and 'white discomfort.' But was it CRT? -
N&O
Ronda Taylor Bullock, the executive directory of WE-ARE (Working to Extend Anti-Racist Education), was hired by the Wake County Board of Education to conduct a implicit bias workshop for the board at it's "mini-retreat" on Thursday.
According to reporting by News & Observer K-12 education reporter Keung Hui, who was in attendance, the event began with a land acknowledgement as well as a "Black body acknowledgement". The workshop then proceeded with activities such as having the board members create artwork to showcase their "identities" and consider the "privilege" or "systemic power" that is associated with each identity.
Bullock, the "Critical Race Scholar" giving the presentation, describes her research interests as "critical race theory, whiteness studies, white children's racial identity construction, and anti-racism". Bullock was invited to the White House this spring by Vice President Kamala Harris to celebrate her "anti-racist" work for Black History Month. WE-ARE was also the subject of controversy last year over a Wake County high school applying for a grant from the organization.
Is this Critical Race Theory?
To answer the question of "was it CRT?" posed by the News & Observer headline, yes, this is applied Critical Race Theory. Although left-wing media tends to interpret the phrase "teaching Critical Race Theory" as referring to an individual explaining what the theory is, the phrase is actually almost always used to refer to an educator applying the principles of CRT, which is certainly what was on display on Thursday night.
In fact, WE-ARE recently completed a CRT training recently which illustrates how Critical Race Theory is applied in North Carolina classrooms: "anti-racist" organizations like WE-ARE teach "educators & school leaders", who then go on to "apply critical race theory & culturally relevant pedagogy to their practice".
The board paid $3,038 for the two hour session.
---
Israeli-Palestinian conflict continues to inspire activism
Pro-Palestinian protesters march down Hillsborough Street to North Carolina State Capitol -
ABC11
Pro-Palestine group marches from NC State bell tower to State Capitol -
WRAL
Although UNC has been a hotspot for demonstrations by both sides in the recent conflict, this week saw a march from the NC State campus to the State Capitol to "Shut It Down for Palestine".
Carrboro Town Council Split 4-3 on Vote to Call for Cease-Fire in Gaza, Israel -
Chapelboro.com
Raleigh urged to call for cease-fire in Israel-Hamas war -
N&O
This week, Carrboro became the first NC municipal government to pass a resolution calling for a cease-fire and and humanitarian aid for Gaza
Many pro-Palestine speakers attended a Raleigh City Council meeting to criticize the US funding of Israel, and call for the city council to pass a resolution as well. At the end of the meeting, Council Member Mary Black asked the city attorney to review the Carrboro resolution as well as another cease-fire resolution shared with the council.
---
Durham Sheriff's Office gun buyback gets firearms "off the streets"
Durham sheriff holds first gun buy-back of 2023. How many weapons were turned in. -
N&O
Nearly 150 firearms collected at Durham County Sheriff's Office gun buybacks -
CBS17
A gun buyback hosted by the Durham County Sheriff's Office today netted "nearly 150 firearms", with prices starting at $100 for rifles and shotguns, $150 for handguns, and $200 for "assault rifles".
Given the firearm ownership rate in the USA and the population of Durham County, I roughly estimate that these ~150 firearms represent approximately 0.0004% of the firearms in the county. Given that gun crime in Durham is rarely conducted with bolt-action rifles, double barreled shotguns, or percussion cap-pistols, one can only guess at what impact this measure will have on the homicide rate.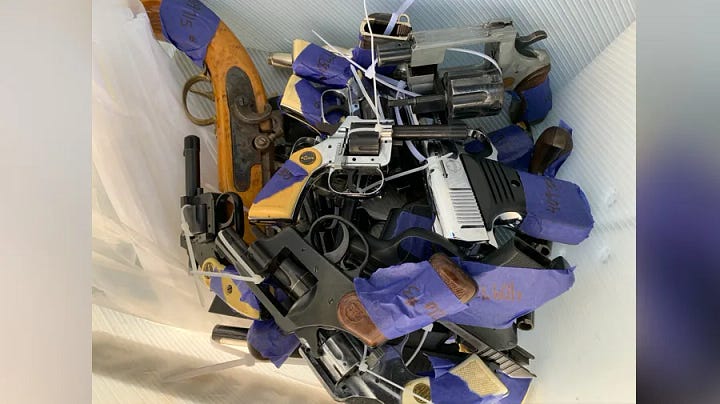 ---
Want to get in touch? I appreciate to getting your tips, thoughts, feedback, etc: thisweekinthetriangle@substack.com